How pizza made by Ukraine's war veterans is taking over Kyiv
15
December
, 15:04
2690
0
War veterans Leonid Ostaltsev (left) and Rafail Agaiev (right) opened a restaurant Pizza Veterano in Kyiv. Photo by: Fakty.ua
A paratrooper is a waiter, a sniper is a pizza maker, and soldiers eat for free in a restaurant run only by war veterans.
Back in 2014, a sudden war in eastern Ukraine turned lawyers, actors, and university professors into men of arms. Almost two years later, bearded, tattooed, and battle-seasoned heroes took off their camouflage and put on cooking aprons.
A pizza place run by ATO veterans, hiring ATO veterans, and offering free meals to the soldiers opened in Kyiv, and is already a sensation.
To cope with the unexpectedly high number of orders, the staff at Kyiv's new Veterano Pizza restaurant, which opened on December 4th, s in the utility rooms and wakes up with the sun.
During the first week, this small enterprise run by two former soldiers attracted the attention of all state media outlets, set up a system of charity "pizza sospreso" and turned into an integration point for volunteers and veterans.
Due to a growing number of clients and therefore orders, seven were hired, delivery service and e-payments were enabled. Three groups of young pizza makers were filled within 30 minutes after an announcement of the upcoming cooking workshops for kids.
Cooking workshops for kids were launched at the restaurant. Photo by: https://www.facebook.com/Pizza.Veterano
Pizza Veterano is located in an underground mall in the center of Kyiv's Metrograd, taking up half of the existing restaurant Kaizen. To locate the place, one needs to be very persistent in rambling along the winding maze of shopping corridors. One night prior to the restaurant's opening, Leonid made an announcement on Facebook. The next day, a distant corner of an underground mall was filled with TV cameras, soldiers, volunteers, and clients.
War veterans becoming successful
"I know what makes this place so popular," said the project director, Leonid Ostaltsev. "People finally saw war veterans becoming successful." On the first day when Ostaltsev was able to hand over the kitchen to his new employees, he is split between interviews with local journalists and friendly conversations with soldiers back from the front lines, still wearing their camouflage uniforms.
The problem of social rehabilitation and integration of war veterans back into Ukrainian civil society is important, with state institutions doing too little or nothing to help, argues Ostaltsev. Pizza Veterano is an outstanding example of how to tackle the issue which, as more soldiers come back, may become increasingly problematic.
"He can even kill you" – this is the reaction many civilians have to war veterans, who have spent months in trenches or in tanks fighting in Ukraine's restive Donbas region, claimed Ostaltsev – and "partially they're right. When there is no way to find a place in a peaceful life, soldiers end up as alcoholics or criminals."
Denis (center) is a demobilized paratrooper who now works as a waiter at Pizza Veterano. Photo by: https://www.facebook.com/Pizza.Veterano
Running a business that will create jobs for the demobilized soldiers is Ostaltsev's way of solving social problems associated with demobilization, integrating soldiers back into civilian society, and giving them economic stability and a professional purpose.
Ostaltsev himself volunteered to be mobilized and spent three months fighting in the ATO zone. The young man chose his battle brother Rafail Agaiev as a business partner in his first enterprise. They both used to work as pizza makers before the war, and Ostalstev was hatching the idea of establishing a restaurant for the veterans in between the battles.
"The soldiers won't ask for a free pizza, but I can see them by their eyes"
"I come here and it feels like home. When I see people in camouflage, I know I can trust them like my own family. Same here, I'm comfortable in this place," says Masha, now demobilized from Aidar Battalion, who met her future husband at the frontline. She came to Veterano with Lara, a volunteer from the National Military Hospital.
"A hospitalized soldier that I'm taking care of asked to bring him pizza from Veterano's. The guys were very excited to hear that a place like this opened in Kyiv," Lara said.
Ostaltsev wants the restaurant to become a meeting point for activists, volunteers, and soldiers. Because the restaurant was created to support soldiers, they eat for free. It was the clients, though, who suggested a handy way of establishing charity: "pizza sospreso" is now possible to order both in the restaurant and online. Clients pay for pizzas that will be later served for the soldiers for free, or delivered to the military hospital and volunteer center at Kyiv Central Railway Station.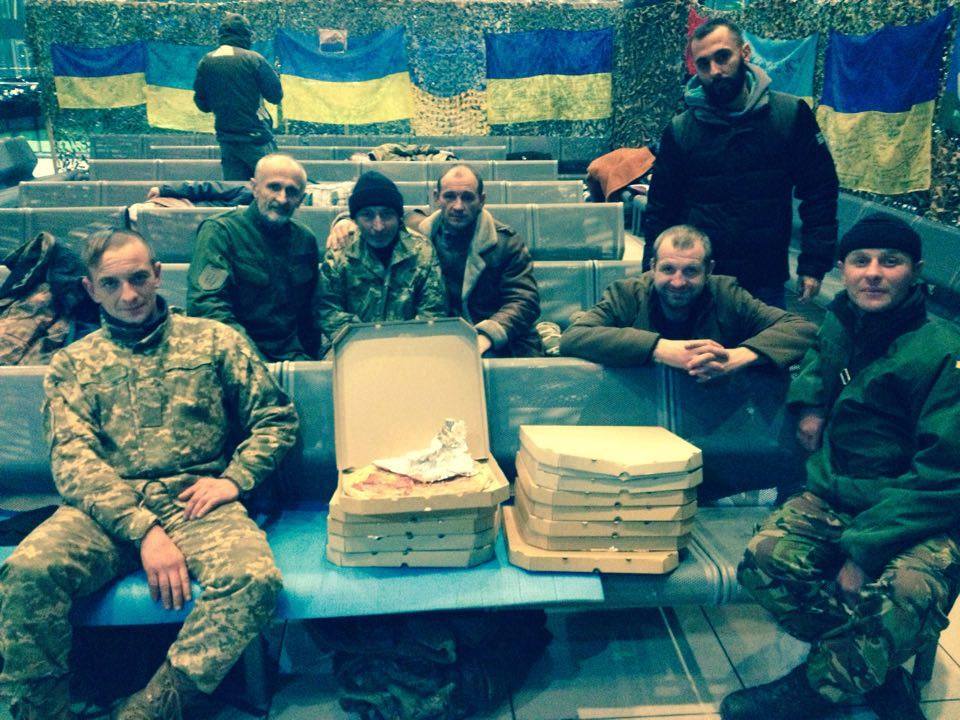 Donated pizzas are being delivered to the War Hospital and to the volunteer center at Kyiv Central Railway Station. Photo by: https://www.facebook.com/Pizza.Veterano
"The soldiers won't ask for a free pizza, they're too shy. But I can see them by their clothes, behavior, even by their eyes. I serve them pizza for free," says Leonid.
During the first five days, up to 150 pizzas were donated. The estimated cost of "pizzas sospreso" as of the end of the first week was over 23 000 UAH (around $ 1,000).
Charity project unattractive to the investors and the state
Ostaltsev had the idea of establishing a pizza place since he had been in the ATO zone. After demobilization, he decided to start his first business project. The process took him almost half a year.
"Earning money is cool, but earning money and helping others is much cooler," the entrepreneur explains. Yet it was the social component that made his business almost impossible: in Ukraine's unstable economical environment, investors didn't find the idea of charity business attractive.
"You'd need to give away 10% of the income, establish some bonus system, while the prices are low already. We're not interested," – all potential investors met Leonid's proposal with a denial. Finally, a close friend agreed to provide space in his own restaurant and see how the Pizza Veterano project would go.
Another place where Leonid went to search for support was the Tax Office. The man was hoping for some tax discount system since his enterprise would be creating jobs for the demobilized, but the state body made no steps to encourage the initiative. Having the "trial and error" of starting his first own enterprise, Leonid seems to be confident in future success.
"I am my own 'pilot project.' Telling others how to deal with problems is one thing. Going through all the obstacles yourself and later sharing the experience is a totally different story. I'm not used to sitting and whining. I can whine but only when I'm already doing something. If nothing changes, then you have to find the solution."
Article by: Viktoriia Zhuhan